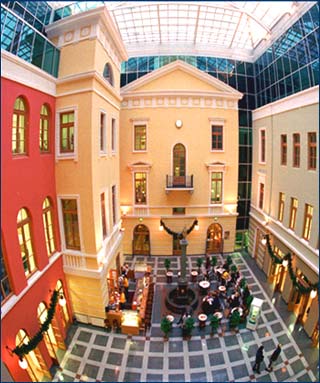 The Atrium at Nevsky 25 is a modern mixed-use development (retail and office) that has preserved the historic heritage for which St. Petersburg is so famous. The entire building was reconstructed to Western specifications, including computerized building management systems, full air conditioning and independent heating and state of the art fire/life safety systems. Throughout the design and construction process, sensitivity to the unique architectural heritage of the building was retained, historical details were restored, and the distinctive interior atrium environment was created.


Building Services and Amenities
Institutional Ownership;
On-site professional Property Management;
Atrium Cafe;
Reserved, guarded on-site parking;
24-hour manned security;
Professional engineering and janitorial personnel.
Building Area

Six Floors

— 10, 000 Gross Square Meters;
— 8, 000 Rentable Square Meters.

Retail (Ground and 1st Floor)

— 2, 700 Rentable Square Meters.

Office (Floors 2-5)

— 5, 300 Rentable Square Meters.
Honeywell Facility Management System
Fully Integrated Honeywell System;
Access Control;
Security Alarm;
Video Control System.
Fire Systems
Fire Alarm System;
Fire Sprinkler System;
Fire Hose Reel System;
Extinguishing System.
Heating, Ventilation and Conditioning System
Automatic Gas Fired Block Boiler (Steamrator), 1mW
500 kW Air Cooled Chiller (McQuay)
6 Air Handling Units (40 000 m3/hour, each)
Seven Supply and Return VAV Boxes per Floor (Trox Technik)
Electric and Energy System
2 mutually-compensating inputs of city utilities
2 diesel-generators (HSA OY), total capacity 250 kW
Elevator Equipment (KONE)
2 passenger elevators (1000 kg)
1 freight-passenger elevator (1500 kg)
Automatic Telephone Station (Lucent Technologies)
Two incoming fiber-optic lines
AT&T Definity PBX 700 lines
ISDN and videoconferencing
Frame Relay